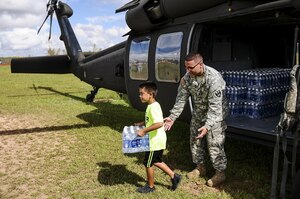 Water and Watersheds
Sustainability
Society
Edward Hessler
Diane Ravitch
who writes a favorite blog on education, a progressive blog, noted that The American Federation of Teachers (AFT) has joined those who are working to restore access to clean water to the those who live in of Puerto Rico.
Randi Weingarten, the president of the AFT, wrote to members that "responding to the water crisis unfolding in Puerto Rico, AFT, Operation Blessing, AFSCME, and the Hispanic Foundation launced Operation Agua...to crowdsource contributions and provide a reliable source of safe drinking water to families across Puerto Rico."
The goal, as noted by Weingarten, is to "purchase and distribute 100,000 individual water filtration systems for households and classrooms and 50 large capacity clean water devices to a network of non-profit organizations, union offices, schools and other community based groups to provide stable and reliable sources of safe water."
Here is more information about
Operation Agua
. There is also find information on how organizations and individuals can become sponsors.
The North American Association for Environmental Education (NAAEE) had planned to hold its annual conference in Puerto Rico but canceled it and then, in the spirit of an organization devoted to sustainability education, established a fund to provide help and assistance to the residents of Puerto Rico, the
Together for Puerto Rico Fund
. NAAEE Executive Director
Judy Braus
, wrote a letter about this decision and action to friends of NAAEE.