Water & Watersheds
Art and Environment
Sustainability
Waste Diversion
by Edward Hessler
Above the fold in the November 2017
Park Bugle
is a story about a mural painted on a
Lake Como
parking lot. It is the first storm-drain mural in St. Paul.
The aim of the work is "to bring attention to the drain's presence and function in directing stormwater runoff--and any pollutants captured by the runoff--directly into the lake."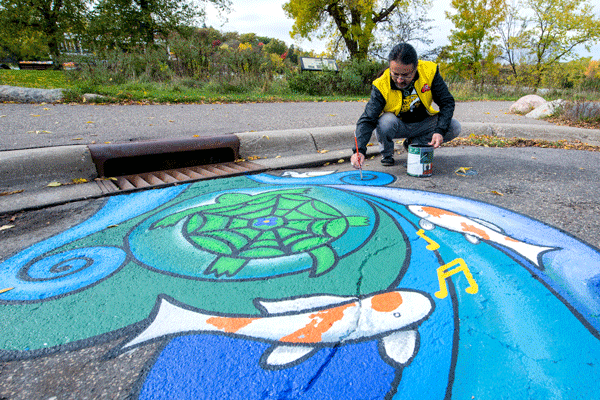 The actual painting started with a wonderful coincidence. When artist Gustavo Lira went to the lake to fill a bucket with water for his paintbrushes, he scooped up a small turtle. The mural features a turtle right near the drain.
You may read the article and see the mural
here
.
The Park Bugle, a community newspaper, serves St. Anthony Park, North and South/ Falcon Heights/ Lauderdale/ and Como Park.
-----
What You Can Do
Leaves are falling! Make a difference by helping keep them out of lakes (like Como Lake), streams and the Mississippi River – so our water stays clean.
Sign up to Adopt a Drain today! This simple act can have a big impact, not just today, but for future generations.
adopt-a-drain.org